Looking to earn some money on the side? Read on.
At SavingJunkie, we've tested dozens of different ways to make a little extra cash. After going through them all we ranked our top 20 favorite side gigs. There's a lot in here and we add to this side hustle list often, so you might want to add this bookmarks to reference later.
All of these gigs are run by well known, legitimate companies so you don't have to worry about when you will be paid. It's no wonder why these earning opportunities are gaining popularity.
Here is a long list of our favorites ways to make extra money – scroll on through and decide what is best for you.
1. Get Paid to Deliver Food to People
Earn by cruising around your town in your car delivering food. You can sign up today with Uber Eats and work on your schedule, deliver when you want, earn good money and get tips from customers.
This is a great way to earn good money when you have a car but don't want to drive people around.
Click here to learn more about becoming an Uber Eats Delivery Partner.
Bonus: If you aren't a current Uber Eats user, sign up for Uber Eats eater account using the promo code below get $5 off your first order.
Promo Code: eats-ubersignupfree
2. Earn Cash in Your Spare Time Taking Surveys
Taking online surveys with Survey Junkie to make extra money is a no-brainer!
You definitely won't get rich or make hundreds of dollars per day with surveys alone, but you won't waste much time, and you can make some money the easy way. It is my #1 favorite (and highest paying) survey site: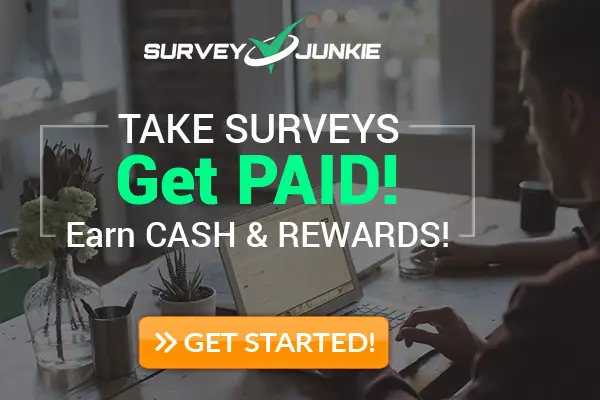 🏆Survey Junkie 🏆: This is a free survey app for your phone that pays you to take online surveys, participate in focus groups, and try new products.
And, I really mean free all around – free to join and they don't charge anything to be a member (they will actually pay you in cash via PayPal).
Join for free through this link and get your free registration bonus.
3. Get Paid to Take Surveys, Watch TV, & Play Games

The next thing you can do is sign up for InboxDollars which pays you, in cash, to watch fun videos & take surveys. 
If you sign up before the end of January, they also give you a $5 free bonus just to give it a try.
By spending just 5-10 minutes per day on this (either on your lunch break or during TV commercial breaks) you can earn and earn an extra $50/month.
More people should be doing this!
4. Get Paid to Drive Your Car Around
If you're free nights and weekends, you can earn extra cash driving your fellow c
itizens around. You can earn money by driving with Uber – if you have a car, it's a perfect way to make a good amount of extra cash whenever it's convenient for you.
A lot of people do this full time, so you can imagine that's it definitely possible to do this on as a lucrative side gig and make extra money and be your own boss.
Click here to learn more about driving for Uber.
5. Need cash now?
If y
ou actually need money now, then you can opt for a personal loan. When you need money in a hurry ZippyLoan is where to go.
You apply for a loan through the Zippy Loan site, if approved they send your loan application to one of many loan providers.
You review the loan details and e-sign if you like what you see. No risk in checking what offers you'll get. You can borrow between $100 and $15,000 as soon as tomorrow.
Loans service up to 60 months.
ZippyLoan connects borrowers to lenders through their network of lenders. They'll find you the lowest interest rate and is one of the best no credit check loan. You can visit ZippyLoan here.
7. Host a Guest in Your Spare Room

Yup, it's true!  There is a company out there called Airbnb that can net you over $1,500+ a month just by listing your spare room just a few nights out of the month.
Are you interested in seeing what your income potential could be by listing a spare room on Airbnb?
It's easy to use…
Sign up for Airbnb here (you just need to give them a name and email address).
List your spare space in under 5 minutes.
You can get paid when somebody books your spare room and you can charge whatever you want when you join through this link.
Remember, is a free room booking app for your phone. I really mean free all around – free to join and they don't charge any fees for you to list your spare room.
See how much people are making from listings in your area, then make your own!
8. Earn Cash for Your Opinion
Vindale Research asks for information about you so that they can match you with fitting surveys.
At up to $75 a pop for some surveys and a free $2 just for signing up, itpays to check in daily to see which ones are available to you.
Cashouts are through PayPal.
Bottom line: You'll get $$$ just for signing up and they pay you straight cash. You don't have to convert your points into cash, you can see your earnings on the dashboard.
9. Make Extra Money With Your Car
Did you know that you can rent out your car with the Turo app when you're not using it? And that you can bring in a lot of extra cash in your wallet by doing so?
Do you plan on heading on a vacation soon while your car sits unused at your home? Do you sometimes not use your car on the weekends?  If so, renting out your car while you're not using it could be an easy way to make passive income. A well-known company, Turo, which has signed up nearly 5 million users to its website, according to Bloomberg, lets you do just that.
It's also really simple to do (and free). Listing your car is quick and easy and takes less than 10 minutes to set up. According to a recent Turo review, somebody listed their car for 5 days every month and made $3,496 in a year. Sounds pretty good to me. Oh, and they also protect your car against physical damage, so you're fully covered.
You can sign up here and start making money with your car.
10. Cancel Subscriptions You Forgot You Had
Saving money should be easy. Automate it with Trim.
Trim users saved over $1,000,000 in the last month. I personally love that you can get your top savings results in less than a minute.
I effortlessly linked my financial accounts and Trim went to work and I saved $200.39 in a few days of signing up.
It found ways to lower my bills and cancel subscriptions.
Stop paying more for cable and internet than your neighbors — Lower Your Bill in 3 Easy Steps!
Provide your account details.
Let Trim save you money. Remember, it's 100% free.
Stop getting ripped off! Trim can negotiate your bill down for you. Works with Comcast, Time Warner, Charter, and any other provider.
Bottom line: It was able to save me some money. If you are at all interested in saving money, you should be using Trim.
11. Save Money & Pay Debt Without Doing Anything
Building your savings is simple with Digit.
This innovative app saves your money without you having to lift a finger.
Simply link it to your checking account, and its algorithms will determine small (and safe!) amounts of money to withdraw into a separate, FDIC-insured savings account. You can learn more about this app by checking out this Digit Review.
Bottom line: Digit customers have saved over a billion dollars. If you are at all interested in saving money, you should be using the free Digit app.
12. Earn Passive Income by Investing in Real Estate
Wouldn't it be great if you could invest in commercial real estate and apartments without dealing with all the hassle of buying, improving, and re-selling real estate?
You don't have to be a millionaire to invest in these types of properties. You can now invest in large-scale real estate for as little as $500 with Fundrise.
Through their real estate investment products, investors earned an average of 8 – 11 percent on their money last year, and all without painting a wall or dealing with unruly tenants.
There is a reason why they currently have over 200,000+ users, this app really pays you!
If you're interested, I recommend you sign up for more information from Fundrise by clicking here.
13. Get $5 to Kick Start Your Savings
 Yup, it's true!  There are several companies out there that will give you free money to save and invest.
The best one right now is…

Acorns: CNBC calls it "the new millennial investing strategy." Once you connect the app to a debit or credit card, it rounds up your purchases to the nearest dollar and funnels your digital change into an investment account.
Once you get the process automated, Acorns investments make your digital change work for you. I downloaded it and within a year I had $1394.25 in my account.

Interested in investing your own spare change? Check out Acorns for the details.
Remember, you'll get a $5 bonus when you sign up and make your first investment!
The sooner you start investing, the sooner your money can start to grow toward your goals. This is one of the best money making apps that can help you earn real passive income over time.
14. Surf the Web and Take Fun Surveys
Swagbucks is another great way to make extra money for just pushing a few buttons in your free time. I personally use it and usually make up to $35 per survey while watching TV, and it does add up 😉.
Getting started is easy:
Click here to sign up. Remember, it's 100% free.
Confirm your email to get the $5 sign up bonus.
Take paid surveys anytime and anywhere via PC, Laptop, Tablet, Cell Phone or Mobile App earning up to $35 per survey.
Get paid cash via PayPal
Here's the good and bad about Swagbucks:
Tip: Enjoy knowing that Swagbucks is one of the highest paying survey sites that actually works. You can also earn FREE Cash (via Paypal) for everyday activities like shopping, watching videos and searching the web. If you're interested you can get started with a $5 sign up bonus.
15. Get Money Refunded Back to You When Prices Drop
So this happened.  I bought something online from Target.  The price of the item that I purchased dropped in price after the fact.
I effortlessly got refunded (for free) without doing a thing, other than originally sign up for Paribus.
It's as simple as that.
This free app will scan your emails for any purchase receipts from dozens of online retailers. You don't even have to know about the price drop in order to get your refund. It's 100% free and will save you a lot of money. I pocketed around $50 in the first few weeks of signing up. Remember, it's 100% free!
16. Download an App and Earn $50
By using the internet as you do every day, Nielsen invites you to make a difference – and you can make money too.
I downloaded this app and make around $50-100 passively… it's a legit app.
You don't have to do anything other than initially registering your computer or phone.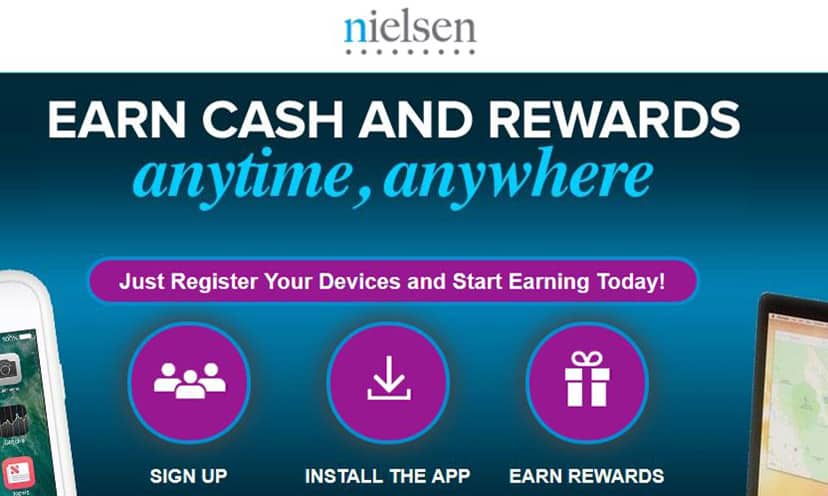 17. Try Your Luck at Winning $5,000
Who doesn't love winning money? This app is giving away $5,000. To begin earning money with this money making app, download the Long Game app.
Once downloaded, you will need to create an account and link your bank information. If you are uncomfortable with your personal account, you can set-up a new account with your bank of choice. To open an account, you will need to provide bank information, name, address and a social security number. You can then fund the account for as little as $5. By funding the account and setting up a reoccurring deposit, you can earn free coins to play games.
How does it work?
1) Click here to create an account, you just need to connect your bank account.
2) Then set how much you'd like to automatically save.
3) Get saving right away, because you'll get a "bonus" in your first week: 40 coins per $1 auto-saved and 3 coins per $1 deposited. That's free money!
4) Once you link your bank account, you'll earn 300 points, so you can start playing right away for free.
18. Get an Easy $5 Right Now
Looking for easy money? The Dosh app is the free cash back app that finds you money for shopping, dining out, and booking hotels and travel activities with more than with more than 100,000 merchants and brands nationwide.
This company not only allows you to get cash back on everyday purchases, but no receipt scanning required! You can learn more about this app by checking out these Dosh Reviews.
Click here to get started with Dosh and get a $5 sign up bonus.
19. Get A Free $10 Amazon Gift Card
Have you heard of MyPoints? It's a cash-back site that pays you to shop online. I love it because it lets you earn cash for the shopping you would do anyway.
And right now, you can earn a $10 Amazon gift card with your first purchase at any retailer through MyPoints!
Here's how it works…
Sign up for MyPoints here (you just need to give them a name and email address).
MyPoints will instantly send you an email to confirm your email address. You'll need to click that to get the free gift card.
You'll also need to purchase $20 worth of products at any of the more than 1,900+ top retailers like Walmart, eBay, & Amazon. MyPoints will reward you with 1,750 bonus points that you can redeem for a $10 Amazon gift card.
That's all! It's basically $10 off anything you buy.
20. Earn Passive Income with Only $25
Did you know that you could lend out money and earn passive income?
Believe it or not, you can lend out money and get paid interest on your money at LendingClub.

As of recently, this has become known as great return on your money, investors have started putting their money into peer-to-peer lending companies like LendingClub.
How does it work? By lending out your own money to peers in the form of personal loans, you are able to earn interest – similar to the way that banks and other lenders produce income.
The best part? It's so easy to open an account and begin investing in this passive income venture.
But, think of it like this – if you put only $345 into an investing account at Lending Club and earned 14% year (pretty easy to do at Lending Club, you'd have $180,377 saved up in 30 years! Talk about a money making app…
Click here if you have $25 and you'd like to have your money make you money.
Bottom Line
While most of these ways to make money won't generate a full-time income for most people, it's exciting to make some extra money!
Which money makings are the ones are you signing up for? Let us know!
SavingJunkie is committed to helping our readers save extra money with common sense advice on personal finance.
Latest posts by SavingJunkie (see all)